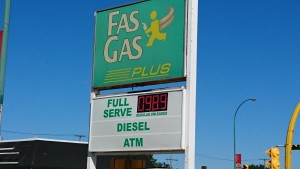 If you haven't filled up for gas today and you need to do so, it will cost you a little more.
Gasbuddy.com's Dan McTeague says due to some refinery issues in the U-S, the price of gas is going up across most of Western Canada with the price sitting at just under a dollar a litre.
McTeague says that price may be temporary, and could drop a few cents next week, but some will keep that price where it is until the Labour Day weekend is over.
McTeague also reminds Reginans we are in much better shape than this time a year ago when the price of gas was 1.20 a litre.