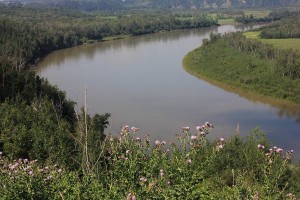 The Water Security Agency is advising the public of high stream flows for the North Saskatchewan River.
As a result of some significant rain in the Edmonton area this week, flows in Alberta have risen to well above normal levels for this time of year with a peak expected in Edmonton today.
Flows on the North Saskatchewan River in Saskatchewan are expected to peak near 1,200 cubic metres per second (m3/s). Normal flows for this time of year are around 220 m3/s. Water levels throughout the system are expected to increase roughly two metres on average from current levels because of this event.
Flows are expected to begin increasing near the Alberta-Saskatchewan Border late Thursday and peak late Friday or early Saturday. Peak levels at the Battlefords are expected on Sunday and in Prince Albert late Monday or early Tuesday of next week.
While this event is significant for late August, it is not an overly significant flow for the system and is not expected to result in any substantial out of channel flows or cause any flood damage.
The Water Security Agency will be monitoring this event and is providing detailed forecasts to those involved in the Husky Oil Spill cleanup efforts and to municipalities along the river.