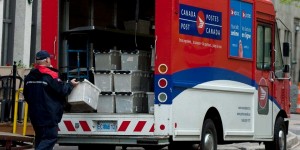 The Canadian Union of Postal Workers will hold a news conference in Ottawa Thursday morning to give an update on contract negotiations with Canada Post.
There's word talks have stalled as a strike mandate for 51-thousand union members is set to expire tonight.
CUP-W has until midnight to serve the Crown corporation with a 72-hour strike notice.
The union is accusing Canada Post of continuing to make unacceptable demands of workers.
Should the union halt bargaining and serve strike notice, there could be disruptions in mail delivery by Monday.
Canada Post also has the option to lock out workers after Thursday.
(The Canadian Press)