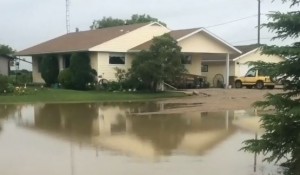 The Saskatchewan government is developing a comprehensive provincial flood and natural hazard risk assessment.
Emergency management commissioner Duane McKay says risk assessments have been done in several areas of government and by municipalities, but acknowledges there's no comprehensive plan.
McKay says the province is working to bring all that information together and assess vulnerability to floods and plan mitigation projects.
The province has to do the work as part of the federal government's National Disaster Mitigation Program, which includes funding for projects that will help protect communities from floods.
McKay says the number of floods has increased over the last decade and now is a good time for a co-ordinated approach.
Consultations are expected to begin this fall, but the final risk assessment report isn't likely to be completed until early 2018.
(Canadian Press)