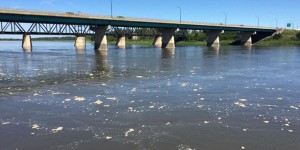 Saskatchewan's Water Security Agency has released sample results from the North Saskatchewan River showing exceedances in two different water guidelines.
Sam Ferris with the Water Security Agency says one result did not meet Canadian Drinking Water Guidelines.
"That exceedance was for benzopyrene at North Battleford along the northeast bank of the river," said Ferris.
16 samples showed amounts of chemicals exceeding guidelines for the protection of aquatic life. So far 144 animals have died from the spill.
Clean up operations are being temporarily suspended because of high water levels on the river from heavy rain falls in Alberta this week.
Wes Kotyk with the Ministry of Environment says there is still enough time to remove most of the remaining oil from the river.
"With roughly just over a month left until the anticipated early freeze mark — the date we're going with is October 1, Husky and operations feel that is sufficient time to do the remainder of the shore cleanup once they can get back onto the water," said Kotyk.
164,000 litres or 73 percent of oil has now been removed from the river.