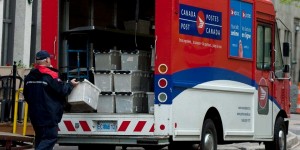 The federal government has appointed a special mediator in hopes of breaking a stalemate in contract talks between Canada Post and the Canadian Union of Postal Workers.
A major issue has been Canada Post's intention to change the pension plan for new employees.
Labour Minister MaryAnn Mihychuk says she expects both sides to work with the mediator to avoid a work stoppage.
CUP-W has until midnight tonight to serve the Crown corporation with a 72-hour strike notice before its strike mandate expires.
(The Canadian Press)