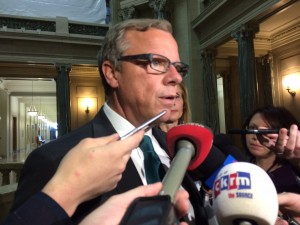 Premier Brad Wall says the
possible merger
between PotashCorp and Agrium could be good news for Saskatchewan.The premier was contacted by both CEOs regarding the potential deal to ensure him they are keeping the province's economy in mind during their discussions."We would want to see Saskatchewan's interests protected and furthered, if there is to be a merger," said Wall.The companies announced this morning they are discussing the possible deal. They said no agreement has been reached and there is no assurance that any transaction will result from these discussions.
The Saskatchewan NDP is saying the SaskParty isn't done a good job of protecting the industry or the jobs attached as it is.
A news release from the NDP says the proposed Yancoal mine in the Southey area could hand over control of the industry to a state-owned corporation from China, which is one of Saskatchewan's biggest potash customers.
That project is in the environmental assessment stage right now.
Premier Brad Wall looks at the possible merger of PotashCorp and Agrium as opportunity for a greater corporate presence in the industry.
(With files from The Canadian Press)