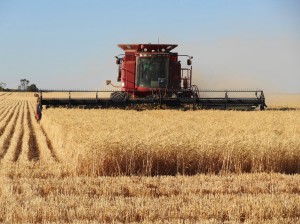 Saskatchewan producers continue to take the 2016 crop off, and according to the latest crop report from Saskatchewan Agriculture, things are going well.
The latest report says 18 percent of the crop is in the bin, which is right on par with the five year average. Another 32 percent is ready to cut.
Ninety-two per cent of winter wheat, 64 per cent of field peas, 40 per cent of lentils, 10 per cent of durum and spring wheat and seven per cent of canola have been combined. Fifty-two per cent of canola has been swathed.
Saskatchewan Agriculture's Daphne Cruise says moisture is a problem in the Kindersley and Tisdale areas, and rain in those areas mean its been slowgoing, but overall yields are still expected to be very positive.
There is some concern over quality though because of the moisture that has been received.
While cooler weather is in the forecast over the next few days, Cruise hopes there isn't any rain or frost and that farmers can use the long weekend to get a lot of work in on the field.