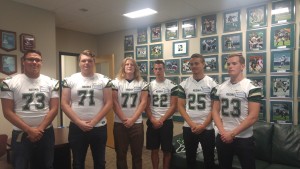 The University of Regina Rams announced the signing of seven Grade 12 players who have committed to join the program after they graduate.
The six are running back Kyle Borsa (Riffel), defensive lineman Tanner Schmekel (Riffel), offensive lineman Parker Hodel (Winston Knoll), defensive lineman Parker Auchstetter (Assiniboia), offensive lineman Ty Cappo (Balgonie Greenall), defensive back Noah Sampson (Balgonie Greenall) and receiver Jonah Branning (Moose Jaw Central)
Borsa is the son of former Ram Cory Borsa, and is ranked 2nd on CanadaFootballChat.com's national list of the top 100 players in the Class of 2017.
Head coach Steve Bryce says the arrival of these players will make the Rams a better team in the future as he has gotten committments from players who should make an impact at the CIS level once their high school careers come to an end.
The Rams start the 2016 Canada West season Friday night in Saskatoon in a game you can hear on 620 CKRM starting at 7.