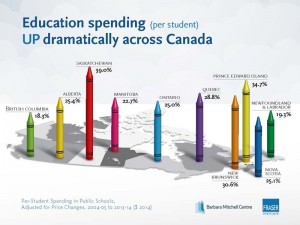 According to the Fraser Institute, when teachers, administrators, and trustees tell us that public schools in Canada are getting less funding from government, that might not be true, and most especially so in Saskatchewan.
The Institute says spending on public schools increased dramatically over a 10 year period, even though the number of students declined. Every province saw significant increases in per-student spending ranging from a low of 18.3 per cent in British Columbia to a whopping 39 per cent in Saskatchewan from 2004 to 2014. Statistics Canada says Saskatchewan saw a decline in student enrollments here of 1.5 per cent over that time.
At 28 per cent, we also had the largest difference between that actual spending on public schools and what would have been needed to account for price and enrollment changes. The institute says that works out to $712 million of taxpayer's money.
Per student spending in Saskatchewan went from $8,702 to $14,562. That's an increase of 67.3 per cent. Of the provinces, Saskatchewan had the highest per student spending level in public schools.
(CJWW)