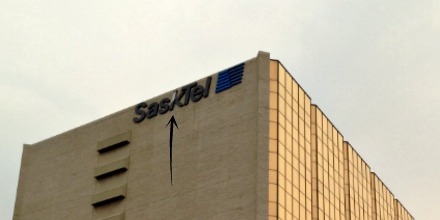 Officials were forced to close part of Saskatchewan Drive Wednesday after a piece of the downtown SaskTel sign came down.
Part of the "K" from the SaskTel sign atop the building somehow broke off in the afternoon.
Both lanes of Saskatchewan Drive were closed to traffic between Hamilton Street and Smith Street while crews dealt with the situation.
It wasn't clear where the broken piece landed or what caused the damage, but strong wind gusts exceeding 60 kilometres an hour may have been a factor.