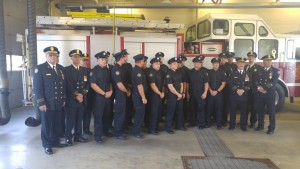 15 new firefighters finished their training and are now a part of the Regina Fire Dept.
A commencement ceremony was held on Friday and for some, the first day of the job begins on Sunday.
Assistant Chief David Kinvig says big things can be expected from this group.
"Proud to see these young fellas come on here," Kinvig Says.
"I've been watching them in training, they're a fantastic group of young lads and their going to be great firefighters."
In 2015, The Regina Fire Department received over 6,300 calls to provide assistance.