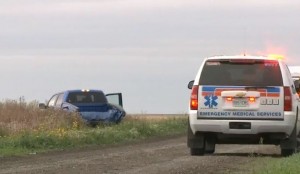 The friend of a Regina man killed on the weekend by a driver who was allegedly impaired is speaking out.
Dave Limacher says Saskatchewan has a "cultural disease" when it comes to drinking and driving and many are responsible from the person getting behind the wheel, to his or her friends, to bars, to law enforcement.
37 year old Tanner Kauffmann and his dog were killed Sunday night on a grid road north of the city.
Limacher says Kauffmann and the dog were outside the truck as he was teaching the animal how to be a hunting dog when the truck was slammed into by another vehicle.
19 year old Colby Heid faces a charge of impaired driving causing death and made his first court appearance Monday afternoon.
Related:
Impaired driving charge issued against 19 year old after Sunday night crash