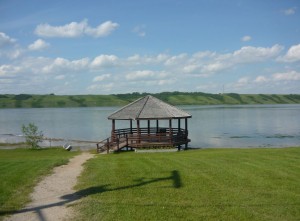 The government of Saskatchewan has approved spending up to $3.9-million to raise the berms at Manitou Beach, SK.
The tourist destination has been plagued by rising waters for years, but its Mayor Gerry Worobec says it's especially bad this year.
Now the village's tourism industry has started to suffer from the lack of beach.
"We really don't have much beach for people to sit and enjoy. We've hauled truckloads of sand to the main beach to try and accomodate our visitors," said Worobec.
The village will have to pay about $1-million for its share of the project.
Worobec says they hope to start work on the berms by October and have everything finished up before the fall freeze up.