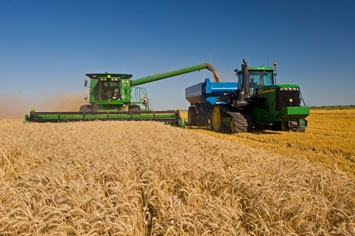 Saskatchewan farmers made some good harvest progress during the past week.
The latest crop report says 32 per-cent of the crop has been combined, up from 18 per-cent last week and ahead of the five year average 28 per-cent.
Harvest ranges from 48 per-cent in the southeast, 42 per-cent in the southwest, 24 per-cent in the east central region, 25 per-cent in west central areas, 22 per-cent in the northeast and 14 per-cent in the
northwest.
65 per-cent of lentils, 23 per-cent of the spring wheat and 17 per-cent of canola have been combined.
Yields are estimated above the five and 10-year averages for most crops, with the exception of lentils.
Rain rolled through the province on the weekend, dumping as much as 30 millimeters in the Raymore area north of Regina.
Areas in the west central, northwest and northeast did not receive as much rain as the rest of the province.
Topsoil moisture is rated 10 per-cent surplus, 84 per-cent adequate, five per-cent short and one per-cent very short.
The areas around Kindersley and Tisdale have the largest surplus.
Crops are being downgraded due to weathering in the field and higher levels of disease this year.
There are reports of higher levels of sclerotinia in canola, fusarium in wheat and durum, and bleaching of cereal crops and pulses.