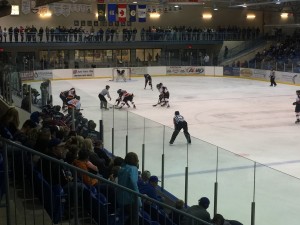 The Regina Pats fell to 2 and 2 in the pre-season with a 5-2 loss to the Medicine Hat Tigers in Wainwright Alberta on Friday night.
In the first period the Tigers scored first when Steven Owre set up Dylan MacPherson at the top of the right circle and he beat Jordan Hollett just inside the left post at 4:46. John Dahlstrom the second helper and it was 1-0. Medicine Hat added to their lead at 17:55 when Ryan Jevne stole a pass in the slot and buried top corner, an unassisted marker to make it 2-0 and that was the score through 20 minutes. The Tigers outshot the Pats 18-13 in the period.
In the second the Pats got on the board when Austin Wagner stole a puck at center, burned up the left wing and finished into the top of the net for his 1st pf the pre-season at 1:10. An unassisted goal and the Tigers lead was cut to 2-1. Medicine Hat got their two goal lead back and then extended it to 4-1 on goals by Mason Shaw and John Dahlstrom at 10:15 and 13:49. The Tigers added another on the powerplay with 7 seconds left in the period thanks to Matt Bradley and took the 5-1 lead to the break. Medicine Hat outshot the Pats 21-8 in the period and led 39-21 overall.
In the third the Pats went to their 5th penalty kill of the night but scored short handed. Sam Steel set up Nick Henry who deked forehand and buried his 3rd of the pre-season at 4:35 and it was 5-2 Medicine Hat. That was the final score. The Pats outshot the Tigers 14-9 in the 3rd but trailed 48-35 overall.
The Pats powerplay was oh for 5 and the penalty kill was 4 for 5 with a short-handed goal.
The Pats are right back at it against the Tigers on Saturday night at 7 o'clock at the Brandt Centre.