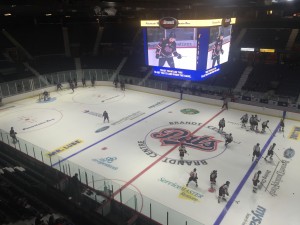 The Regina Pats came out on top in a back and forth contest 5-4 in overtime against the Medicine Hat Tigers at the Brandt Centre on Saturday night.
The Pats opened the scoring in the contest when Sam Steel slid a loose puck in the crease past a sprawling Duncan McGovern at 13:17. Dawson Leedahl and Nick Henry drew the assists and it was 1-0. The Tigers responded at 15:53 on a 5 on 3 powerplay when John Dahlstrom was the benefit of a pretty passing play with Ty Schultz and Matt Bradley and it was 1-1 after 1.
In the second the Pats took the lead 2-1 thanks to Chase Harrison on the powerplay but Zach Fischer tied it up for Medicine Hat under a minute later. The Pats went up 3-2 on a goal from Austin Wagner but again late in the period the Tigers had the answer from Matt Bradley and the game was tied 3-3 heading to the 3rd.
In the final frame the teams traded goals again. First Austin Wagner scored his second of the night to give Regina the 4-3 lead but Ryan Jevne tied it up and the game needed overtime. In the extra frame the Pats won it on the powerplay when Sam Steel tipped in a Connor Hobbs point shot for the 5-4 victory.
With the win the Pats improve to 3-2-0-0 in the pre-season and Adam Brooks had three assists in his pre-season debut.
The Pats will return to the ice on Wednesday at the Ochapowace First Nation against the Brandon Wheat Kings in a 3 on 3 contest at 1:30 PM.