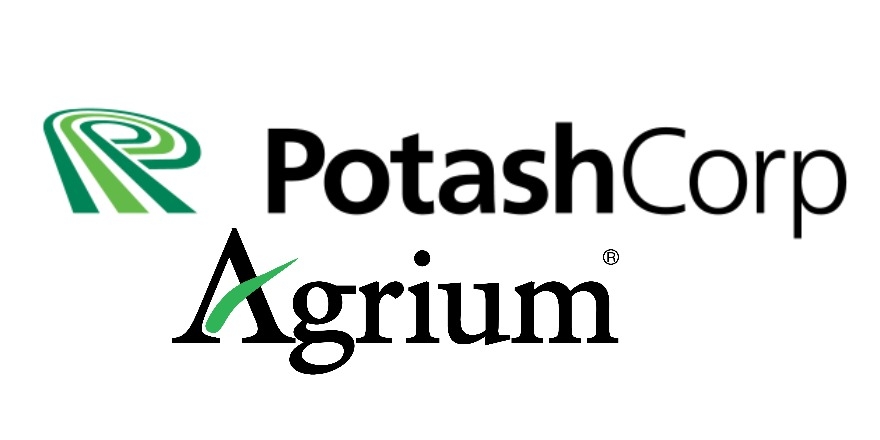 Potash Corp. of Saskatchewan and Agrium have agreed to merge in a deal that would create a global agricultural giant worth an estimated 36 billion dollars U-S.
The deal would bring together Saskatoon-based PotashCorp's fertilizer mining operations — the world's largest by capacity — with Calgary-based Agrium's extensive global direct-to-farmer retail network.
Both companies say the new firm would have close to 20-thousand employees, with operations in 18 countries.
The name of the new company has not been disclosed.
Potash and Agrium are already partners in selling fertilizer through commitments to a market company called Canpotex.
Agrium's Chuck Magro said in a news release Monday morning, "This is a transformational merger that creates benefits and growth opportunities that neither company could achieve alone. Combining our complementary assets will enable us to serve our customers more efficiently, deliver significant operating synergies and improve our cash flows."
News of the deal comes as the fertilizer industry struggles with a steep drop in prices in recent years following a ramp-up of production and the breakup of a Russia-Belarus potash trading cartel in 2013.
Analysts expect the combined company would be better able to control fertilizer output and may lead to mine closures.
The deal still has to go through regulatory and Competition Bureau approvals.
PotashCorp was the target of a 38-billion-dollar takeover bid by B-H-P Billiton in 2010, but the Canadian government ultimately blocked the offer as not having enough net benefit for Canada.
(with files from The Canadian Press)
Related: