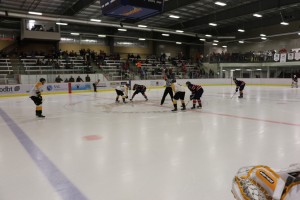 The Regina Pats and Brandon Wheat Kings met in an exciting three on three pre-season game at the Ochapowace First Nation on Wednesday afternoon. Jordan Hollett started in goal for the Pats while Logan Thompson got the nod for Brandon. The Wheat Kings used a 7 goal second period to win the 40 minute game 10-3. Hollett gave up 3 for the Pats, Kurtis Chapman the others.
The Wheat Kings got off to a fast start in this one. First Ty Lewis set up Jaeger White for the 1-0 goal 52 seconds in and then Ty Lewis took a Jaeger White feed and buried at 6:21 and it was 2-0 Wheat Kings. The Pats got one back on the powerplay from Jake Leschyshyn at 9:17 after a nice passing play with Nick Henry and Chase Harrison to make it 2-1. Then 2 minutes later Braydon Buziak ripped a snap shot into the top corner on the short side from the right circle to tie the game 2-2. Riley Bruce the lone assist at 11:22. It stayed that way until with 0.6 seconds left in the period Duncan Campbell beat Jordan Hollett with a point shot pot and in with assists to Caiden Daley and Stelio Mattheos and it was 3-2 after 20 minutes.
In thee second and final period Kurtis Chapman took over the Pats goal and the Wheat Kings stuck with Thompson. Brandon scored just 40 seconds in thanks to Stelio Mattheos to make it 4-2. Ivan Provorov the lone assist. Then at 2:53 Provorov set up James Shearer on the powerplay and it was 5-2. The Pats went to the powerplay after that but just as it expired Garrett Sambrook scored for Brandon. Assists to Connor Gutenberg and Schael Higson at 5:38 and it was 6-2. Brandon went to their third powerplay of the contest and at 6:38 scored again. Ivan Provorov a seeing eye shot top corner glove side made it 7-2. Assist to James Shearer. The Wheat Kings kept pouring on and got goals from Danial Bukac at 8:26 and Duncan Campbell (SH) at 10:35 and it was a 9-2 contest. The Pats got one back at 16:08 on the powerplay, Chase Harrison got a knuckle put to go top corner form the point and it was 9-3. Assists to Rykr Cole and Erik Gardiner. Just over a minute later the Wheat Kings scored their 10th of the game at 17:12. Caiden Daley on a breakaway unassisted to make it 10-3 and that was the final score.
The Pats were 2 for 4 on the powerplay and 1 for 3 on the penalty kill.
The Pats are back in action on Friday in Brandon against the Wheat Kings at 6:30 on 620 CKRM.