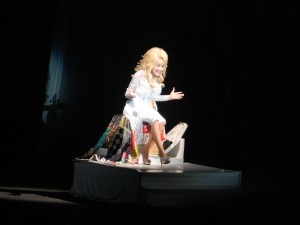 At the age of 70 Dolly continues to impress and shine as she has reached that pinnacle of over 50 years in the business. She is one of true legends that has opened so many doors for others to follow in her foot steps. Her life story is amazing and she deserves every positive thing that comes her way.
Dolly impressed with her powerful vocals with range/projection and a bubbly personality as she worked the crowd by weaving her stories through out the performance. Sometimes a little "cheesy" and preachy, but that was just her Southern Charm shining through. She said "I hope I die on stage doing this, that will be the way I want to go and you can say you were with me when it happened". Long Live Dolly!
The Moose Jaw show consisted of these songs in her set list. Despite her great vocals and showmanship I wish she would of sang more of her hits and less of the cover songs, but when you have reached the status of Superstar Icon you can do whatever the hell you please.
Hello Dolly intro
Train, Train
Why'd You Come in Here Lookin' Like That
Pure & Simple
Jolene
Precious Memories
My Tennessee Mountain Home
Coat of Many Colors
Smokey Mountain Memories
Applejack
Rocky Top/Yakety Sax
Banks of the Ohio
American Pie / If I Had a Hammer / Blowin' in the Wind / Dust in the Wind / The Night They Drove Old Dixie Down
The Seeker
I'll Fly Away
Baby I'm Burnin' / Girl on Fire
Better Get to Livin'
Outside Your Door
The Grass Is Blue
Those Memories of You
Do I Ever Cross Your Mind
Little Sparrow
Two Doors Down
Here You Come Again
Islands in the Stream
9 to 5
I Will Always Love You
Light of a Clear Blue Morning