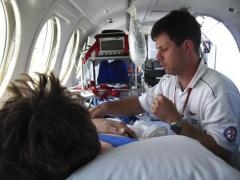 Since 1946, Saskatchewan Air Ambulance has been a lifeline in a rural province that had very few highways at the time of World War II.
The service is celebrating 70 years of saving lives and helping new ones begin.
Manager of Air Ambulance David Mandzuk says their service works hand-in-hand with STARS.
On average, the service takes 125 flights every month, and around 1,500 per year.
The cost to patients to use the service is $385 per trip for residents and $6.29 per mile for non-residents or insurers.
(CJWW)