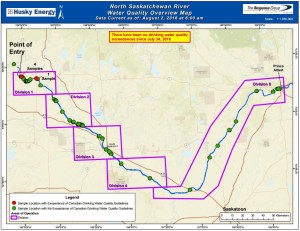 The latest round of tests after an oil spill in the North Saskatchewan River has found one sample contained hydrocarbons that exceeded drinking-water standards.
Patrick Boyle with the Saskatchewan Water Security Agency says 55 samples were taken.
He says hydrocarbons are attaching to the sediment in the river and water treatment plants will be able to remove them.
Boyle says 22 of the samples exceeded the limits for protection of aquatic life, which is two more than were reported on September 9
Up to 250,000 litres of oil mixed with a lighter hydrocarbon leaked into the river from a Husky Energy pipeline near Maidstone in July.
The agency said last week that the cities of North Battleford, Prince Albert and Melfort could resume taking water from the river.
(CJWW)