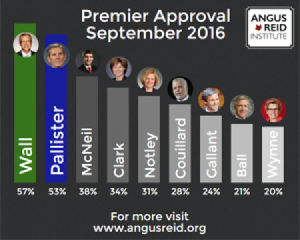 Premier Brad Wall's approval rating has hit an all-time low, but despite that he is still Canada's most popular provincial leader.
An Angus Reid poll released Thursday shows Wall still leads the way with an approval rating of 57 percent, but that is down nine points from the spring when the survey was last held.
Angus Reid says it was a tough few months for Wall as he dealt with the Don McMorris drinking and driving charge, the Husky oil spill, and talk of perhaps privatizing Sask-Tel.