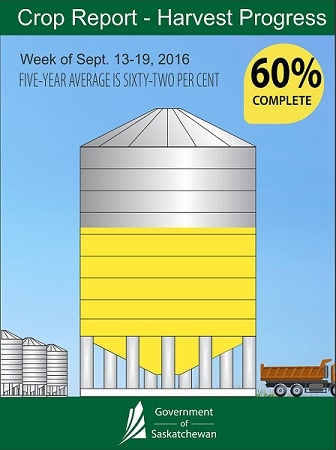 Saskatchewan farmers made significant harvest progress due to a mostly dry, windy week.
The latest crop report says 60 per-cent of the crop is in the bin, up from 38 per-cent last week and close to the average of 62 per-cent.
Harvest is furthest advanced in the southeast at 73 per-cent, 66 per-cent has been combined in the southwest, 53 per-cent in the east-central region, 57 per-cent in west central Saskatchewan, 54 per-cent in the
northeast and 48 per-cent in the northwest.
Rain stalled some field operations, mainly in the central and northern regions.
Rainfall ranged from nil to 89 millimeters in the Tramping Lake area.
Topsoil moisture is rated 9 per-cent surplus, 86 per-cent adequate and five per-cent short.
Surplus moisture remains an issue around Rosetown, Kindersley, Porcupine Plain and Tisdale.
Yields remain above average but weather and crop diseases have taken a toll on the quality of the crop.