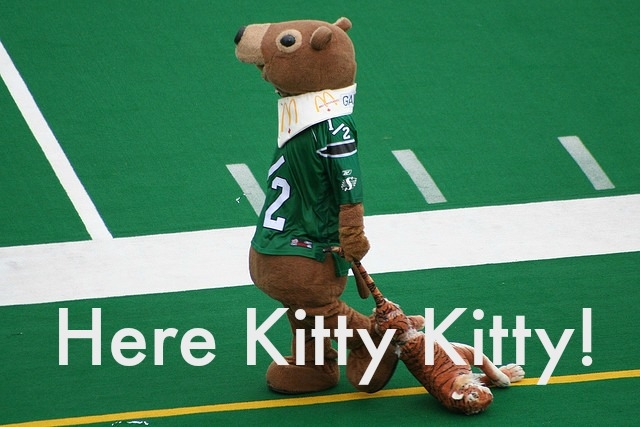 Here Kitty Kitty!
Regina Police are warning motorists about strict parking and driving rules for Saturday night's football game and adding green-clad fans will be on the streets .
As the Saskatchewan Roughriders get set to take on the Hamilton Tiger-Cats, a reminder game time is 7:30 p.m. and drivers are urged to allow for plenty of time to arrive and return home.
The good news for game-day…Football Express Regina Transit bus is now FREE!
The Regina Police Service has additional officers assigned to manage the high vehicle and pedestrian traffic to enhance safety for all game attendees and residents of the area and remind motorists there will be strict enforcement:
There will be no vehicle traffic allowed on the 1500 and 1600 blocks of Retallack Street.
Access will be limited to local residents only (you may be asked to show that you are a local resident, e.g. home address on identification or correspondence).
Fans and motorists will find road closures on the 1500 block of Retallack Street at Dewdney Avenue; 9th Avenue at Retallack Street and 10th Avenue at Retallack Street.
These closures will further restrict westbound vehicle traffic on 9th Avenue and 10th Avenue at Retallack Street.
There will be additional "No Parking" zones on 9th Avenue, east of the stadium, prior to, during and after football games.
These zones are necessary to expedite City Transit and to maintain an emergency vehicle corridor for police, fire and EMS should the need arise.
Any vehicles parked in these "No Parking" zones will be towed from the area.
Other reminders from Regina Police:
Remove all valuables for your vehicle and lock the doors. 
Respect the neighbourhood. 
Consider using public transit 
Football fans can be beer drinkers; beer drinkers can be football fans. But football fans who are beer drinkers should not try to be motor vehicle operators, too. 
Make your game plans before you drive
The weather forecast likely won't cooperate for the game, so fans are advised to bring warm clothes, and your rain gear.
Go Riders!