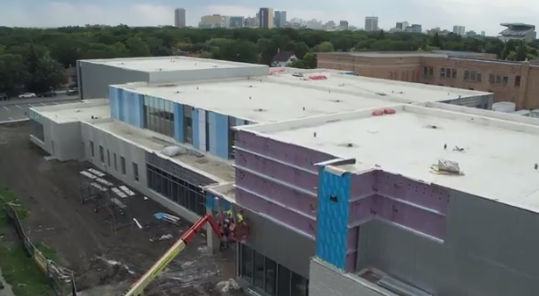 The new Mâmawêyatitân Centre in North Central Regina is now more than 75 per cent complete and continues to be on time and on budget, according to a recent news release with video.
"We are now in the final phase of construction on the building, and expect to be on target for an opening in spring 2017," Jeff Barber, Chair of the Mâmawêyatitân Centre Owners' Group and Director and CEO of Regina Public Library, said. "Now that construction is well in hand, we are turning our attention to program development for the Centre."
The Mâmawêyatitân Centre will be a central location that attracts residents who want to participate in community life, as well as access to needed services, programs and resources.
The Centre will contribute to the enhancement of the North Central community and act as a point of collaboration, allowing for optimum services to be accessed by, and delivered to, the residents of North Central and throughout the city.
Overall cost of the project is approximately $42.2 Million.
Regina Public Schools, with the support of the Government of Saskatchewan, is contributing $31 million.
The City of Regina is providing $8.8 million and the Regina Public Library is investing $2.5 million into the 100,000 square foot, integrated facility in the heart of the North Central community.
The Mâmawêyatitân Centre will be the new home for Scott Collegiate, a child care facility, a number of multipurpose recreation spaces, Regina Public Library's Albert Branch, a community policing centre, and community-based tenants currently located at the Albert Scott Community Centre, including North Central Community Association (NCCA); Regina Indian Community Awareness Inc. (Chili for Children); and the neighbourhood food store provided by Regina Education Against Child Hunger (REACH).
The building's unique design allows each tenant access to shared space and amenities, making total usable space more than if each partner were to build stand-alone facilities.