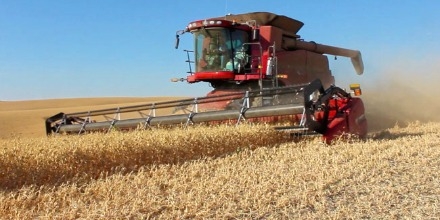 The combines are starting to roll again in West-Central Saskatchewan following weekend rainfall.
John Ippolito is the regional crop specialist in Kindersley.
He says quite a few combines were back in the field on Tuesday.
Some farms had excess summer rainfall, so harvest is a challenge in parts of the west central region.
He says an area which includes Kindersley, Rosetown, Leader and Kyle had as much as three times the normal amount of rain this summer.
As a result, some low lying areas cannot be combined.
He says canola yields are quite good, around 40 bushels per acre.
He says durum yields are good but there are disease problems like fusarium.
Ippolito estimates harvest is about 65 per-cent complete in his region.