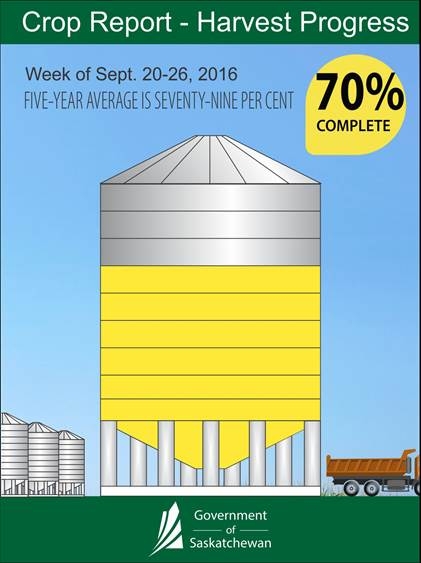 Saskatchewan farmers made limited harvest progress during the past week.
Provincial crops specialist Brent Flaten says 70 per-cent of combining is complete, up from 60 per-cent last week.
The long term average is 79 per-cent.
He says rain caused harvest delays.
Flaten says harvest ranges from 61 per-cent in east central Saskatchewan to 79 per-cent in the southwest.
Rain was general across the province, reaching about an inch or 25 millimeters in many locations.
The greatest amount was at Moosomin in the southeast at 63 millimeters.
Topsoil moisture is rated 17 per-cent surplus, 81 per-cent adequate and two per-cent short.
Areas around Kindersley, Rosetown, Porcupine Plain, Tisdale, Canora and Preeceville continue to suffer from excess moisture.
Strong winds caused some shattering loss during the past week.
Bleaching and sprouting are also causing some downgrading as well.