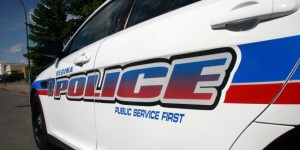 Regina police are investigating after the front door of a home was shot at in the Coronation Park neighbourhood on Sunday morning.
Around 2:12 a.m., police were called to Regency Crescent for reports of gunfire.
When members arrived, they discovered the front door of a home in the area had damage caused by a gunshot.
No one was injured and the investigation is ongoing.
Anyone with information is asked to contact police at 306 777-6500 or Crime Stoppers at 1-800-222-8477.