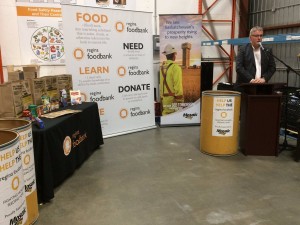 The Regina Food Bank has kicked off its 30th Annual Food Drive, making it the longest running community food drive in Canada.
Brown paper bags are being delivered to homes in Regina, which can be filled and dropped off at any major grocery store in the city, or placed on door steps for pick up on October 15.
The drive is the largest in Regina, and the Food Bank's need for donations grows each year.
"This month last year we were serving 8,500 people, this year we're serving over 9,000. We have seen more people reaching out for support and demand on resources," said Steve Compton, CEO of the Regina Food Bank.
The Food Bank is also running a virtual food drive, where people can donate money online and the food bank will use the money to purchase in-need food items.
300 tonnes of food was collected from last year's drive. Donations can be made up until October 15.
Related: