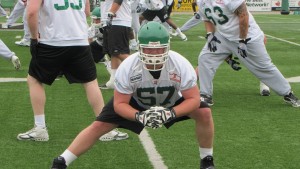 The Saskatchewan Roughriders have announced offensive lineman Brendon Labatte has signed a contract extension which will keep him with the team through the end of next year.
The Weyburn product is currently out of the lineup after suffering a concussion early this season. He was slated to become a free agent at the end of the year.
Currently in his ninth year, LaBatte has picked up seven career Division All-Star nominations and four CFL All-Star nominations. He was also named the CFL's Most Outstanding Offensive Lineman in 2013.
The Riders also announced they have signed 5 players to the practice roster with one of them–defensive lineman Ian Seau being the nephew of NFL hall of fame linebacker Junior Seau.
Others signed to the practice roster are Canadian running back Jordan Wilson-Ross along with import defensive back Larry Raper, defensive lineman Devaunte Sigler and offensive lineman Aundrey Walker.
The team also released three players–all imports.  They are defensive backs Derrius Brooks and Demetrice Morley and running back Josh Robinson.