Hang onto your hat.
Southern Saskatchewan has been hit by all kinds of inclement weather Tuesday – from rain, high winds and snow.
Advisories are warnings are in place for many regions of central and southern Saskatchewan as the system continues to slowly move into Manitoba.
There is a forecast for snow in southern Saskatchewan this week but Regina should escape the worst of it.
Environment Canada spokesman John Paul Cragg says three days of rain could include some snow in a line from the Cypress Hills, through Saskatoon to Melfort.
But he says Regina should escape most of the snow.
A power outage in Regina Tuesday morning knocked out most of the power in central Regina – it was likely caused by high winds which were gusting up to 60 km/h early in the morning.
SaskPower sent crews out immediately to try and restore power before the work day and commute.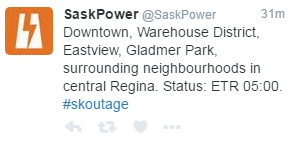 The power went out around 4:00am and was restored about 45 minutes later.
The areas affected were Downtown, Warehouse District, Eastview, Gladmer Park, surrounding neighbourhoods in central Regina.
In the meantime, the Special Weather Statement has ended for the Regina area, but the high winds are going to be a factor for most of the day.
Environment Canada says there are advisories and warnings throughout central, southern and eastern Saskatchewan – from rain, wind to snow.
Highway Hotline is not reporting any serious hazards on the roads, although motorists are advised to use extra care while driving Tuesday.
The weather office says wind gusts Tuesday will persist, but ease off later in the afternoon.
The warning though from Environment Canada? Most of the wind will be blowing from the north.
Milder weather is expected by the weekend.