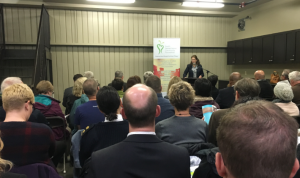 The South Saskatchewan Community Foundation released its Regina area Vital Signs report on Tuesday.
The 2016 report is focused on three things: pursuing reconciliation, welcoming newcomers and building economic inclusion.
Christina Attard, executive director with the foundation, said having reports like this help to spark the hard conversations about the challenges our community faces.
"For us, the biggest progress is seeing agencies coming together and actually starting to collaborate and working towards solutions that actually include everybody," said Attard.
The idea of inclusion is something that the report addresses multiple times.
Attard says the research found this year highlights some gaps and challenges in the city, particularly for refugees and newcomers.
"(Refugees and newcomers) want jobs, they want to be a part of the community – they want the lives they had in their home countries back," explained Attard. "They may or may not be going home, but this needs to be their home."
Also at the Food Bank for the launch of the report was Mayor Michael Fougere, who says homelessness is another theme in the Vital Signs report the city is working to address.
"(The City of Regina) is focusing resources on building accommodations for the wrap-around services that are so important for those people on the streets, so that they can deal with their drug addictions and alcohol problems and those kinds of issues," said Fougere. "That's important. It's a work in progress."
The Regina area Vital Signs report also focused on ways to improve the way of life for struggling low-income families and Indigenous people.