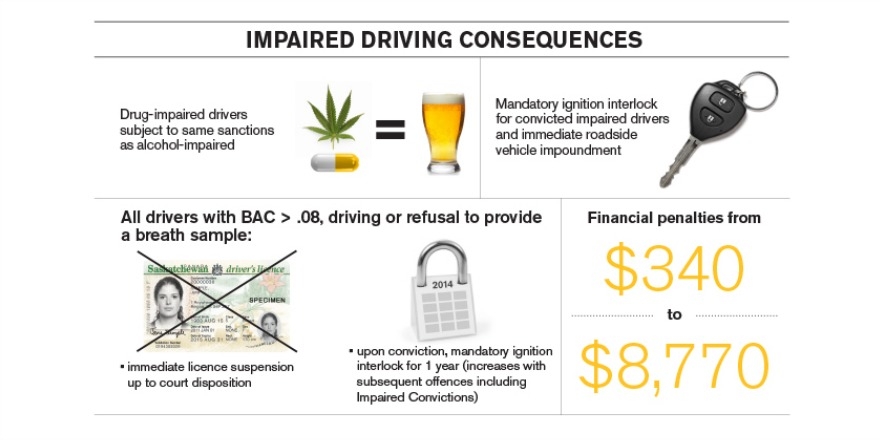 SGI has announced impaired driving is the traffic safety spotlight for October.
"With the recent tragedies in the province, SGI and Saskatchewan law enforcement are putting additional focus on impaired driving," Minister responsible for SGI Joe Hargrave said. "Too many people are needlessly killed or injured due to impaired driving and it has to stop."
Throughout the month, police across the province will be watching for drivers under the influence of alcohol or drugs.
Police will also be watching for distracted drivers, as well as other unsafe driving behaviours such as speeding and failing to wear a seatbelt.
Preliminary numbers for 2015 show 53 people were killed and 562 others were injured in Saskatchewan in crashes related to impaired driving.
In 2015, 44% of traffic fatalities in the province involved alcohol or drug use.
SGI recommended motorists make every effort to keep Saskatchewan roads free of impaired drivers:
Plan a safe ride home before you start drinking and your judgment is impaired.
Know the laws. Consequences for impaired driving begin at a blood alcohol content of 0 for new drivers and .04 for experienced drivers.
Don't let your friends or family drive impaired. Take away their keys, offer to call them a cab or safe ride service, or let them stay the night.
Volunteer to be the designated driver. Take turns with your friends or coworkers.
Don't get into a vehicle with someone you know has been drinking or using drugs.
Call 911 to report suspected impaired drivers to police.