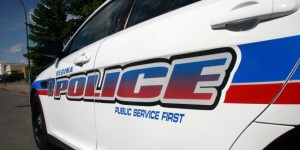 A Regina man is facing 36 charges in connection to a recent break and enter, as well as weapons and drug charges following an arrest on Monday, October 3.
Police were dispatched to the 100 block of McCaul Crescent for a report of someone who was sick or injured.
When police arrive on scene they found a man slumped over the steering wheel of a truck. EMS was also on scene and transported the man to hospital for possible intoxication by drugs.
When officers checked the license plate of the vehicle, it showed up as a stolen plate.
The vehicle appeared to be full of items, which were determined to be stolen, so they truck was seized by police.
When police established the identity of the man, they found he was also the subject of outstanding warrants for possession of stolen property.
Police also found methamphetamine and heroin, brass knuckles, bear spray and two long-barreled firearms.
Once the man was treated at hospital, he was transported to the RPS detention area.
34 year old Mark Timothy Popowich, from Regina, is facing 36 charges including unauthorized possession of a firearm.
Popowich made his first court appearance in Provincial Court on 9:30 a.m. on October 4.