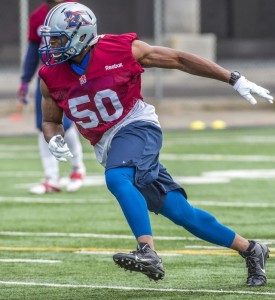 The Saskatchewan Roughriders have officially announced linebacker Henoc Muamba is joining the club
The 6 foot, 230-pound Muamba joins the green-and-white  after failing to crack the lineup of the NFL's Dallas Cowboys despite playing in three pre-season games.  a
Muamba was the first player taken in the 2011 CFL draft by the Winnipeg Blue Bombers. He spent three seasons there and was a league all-star in 2013 after registering 106 tackles.
Muamba spent the 2014 season with the NFL's Indianapolis Colts before returning to the CFL in 2015 with the Montreal Alouettes. He played the club's final four regular-season games, registering 14 tackles.
Muamba has accumulated 185 tackles, 54 special-teams tackles and four sacks over four CFL seasons.