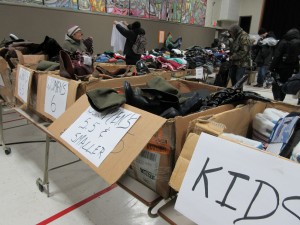 Souls Harbour Rescue Mission is asking for the public's help in collecting winter clothing and accessories.
As the temperature drops and the snow comes down, the organization is finding more clients coming in looking for warm clothing.
The organization is hoping to stock its shelves before winter settles in.
"We do have people coming to our free clothing store looking for winter items, which we do not have very much of. So, if people want to start going through their toques, mitts, jackets, ski-pants, winter boots —we always need winter boots," said Patty Humphries, Marketing Manager for Souls Harbour Rescue Mission.
If you have winter clothes or accessories to donate, they can be dropped off at the Soup Kitchen at 1836 Halifax Street.