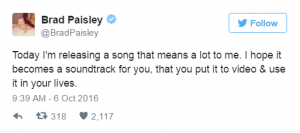 >
This tweet describe how important Brad Paisley's new song is to him, and apparently it is resonating with country music fans. Less than 24 after he shared the video on facebook it has 6+ million views.
'Today', is our "Farm Fresh Song". Have a listen and vote "PICK IT" or "KICK IT" on our homepage.
Be sure to leave any comments with your thoughts on the song!
Have a great Thanksgiving long weekend. We certainly have  a lot to be thankful for.
Cheers,
Boz
@BaslerRm on twitter