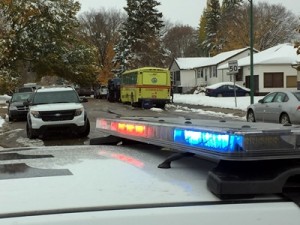 The name of the person found dead at the scene of a police standoff in Saskatoon on Thursday has been released.
28-year old Joshua John Robert Megeney is from Medicine Hat.
On Thursday morning,  Saskatoon Police attended to a home in the 500 block of Avenue Q North after being told of a break and enter in progress.
Police were also alerted the resident had several firearms and ammunition stored inside.
When officers began clearing the home, they found a man inside a bedroom in possession of a long-barrelled firearm.
Shots were fired and the officers left the home and established a safety perimeter outside.
Attempts to make contact were unsuccessful and when they entered again at 4:30, the found a man in the bedroom dead.
An autopsy was conducted on Friday,  but it's expected it will be some time before the results come in.
(CJWW)