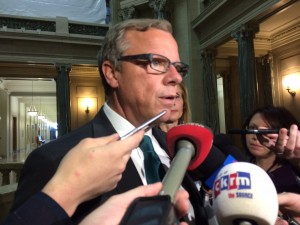 Premier Brad Wall says the government of Saskatchewan will continue to fight against the federal government's decision to implement a nation-wide carbon tax.
Wall says the province will be looking at its legal options if the tax Is imposed on Saskatchewan and other provinces.
The premier says he felt betrayed by Trudeau's decision to impose the tax on all the province's when there was no economic assessment done beforehand.
"Where is the assessment before you would rise in the house and make an annoucement about huge changes to Canadian taxes?" said Wall.
He says the tax will hit certain people more than others, specifically those in the mining, agriculture and the oil and gas industries.
Meanwhile, the Saskatchewan NDP says the premier is failing to provide real leadership on the matter.
Interim leader for the NDP Trent Wotherspoon called Wall's post to social media '"tantrums" and says Wall should have implemented a climate change initiative years ago.
The tax is set to take effect in 2018, starting at $10-per-tonne and will increase to $50 per tonne by 2022.
Related:
Federal government to introduce nation-wide carbon tax
Saskatchewan strongly opposed to nation-wide carbon tax; local groups concerned
Scheer, Goodale square off over carbon tax