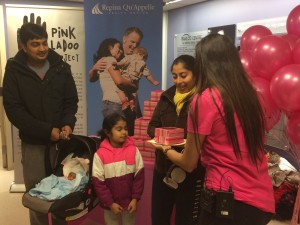 Sweet treats were handed out at Regina General Hospital on Tuesday as part of the Pink Ladoo Project.
Traditionally in South Asian countries, ladoos are sent to families to celebrate the birth of a boy.
The initiative pushes people to celebrate the births of all babies by using pink ladoos, because pink is a unisex colour in South Asian countries.
Karen Dhaliwal, Saskatchewan rep for the Pink Ladoo Project says the project was started in the hopes that people will start to rethink gender-bias traditions.
This is the first time the Pink Ladoo Project has been celebrated in Canada. The launch coincides with International Day of the Girl.