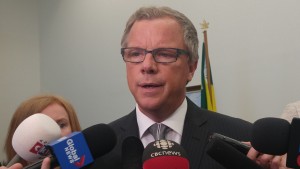 Premier Brad Wall is arguing against the federal government's suggestion the nation-wide carbon tax is revenue neutral.
The premier says the tax will hit the mining, agriculture, and oil and gas sectors hardest, resulting in job loss when their competitors don't have a 50-dollar a tonne tax to worry about.
Wall says the federal government should be more focused on green technology than imposing the nation-wide tax.
"We're not saying we ought not to do anything about climate change, I would argue we've been leading the fight. We've invested more per capita in technology like carbon-capture sequestration than any other province in the dominion of Canada," said Wall.
He says he has asked the Ministry of Justice to look at Saskatchewan's legal options if the tax is imposed on the province.
Related: