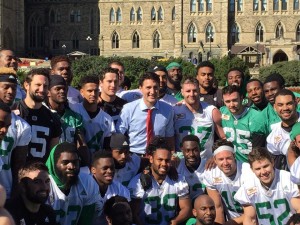 CFL teams don't normally practice where Canadian politicians conduct the business of the country, but the Saskatchewan Roughriders are Canada's team, so why not.
With the team staying in Ottawa this week as they get ready for Saturday's game in Toronto, the team conducted a short practice Tuesday on the front lawn of Parliament Hill.
Many watched head coach and general manager Chris Jones put the team through the paces with Prime Minister Justin Trudeau coming out of his office to watch first-hand while taking pictures with the team after.
On Monday, the team got a tour of the House of Commons thanks to Saskatchewan Conservative MP Randy Hoback.
The team used that occasion to get a picture taken with the offence sitting on one side of the house with the defence on the other.