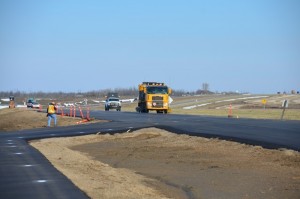 The provincial ministry of highways says nine kilometres of newly twinned highway between Saskatoon and Vanscoy opened to traffic on Thursday.
This phase is the first of three in a major project to twin approximately 25 kilometres of Highway 7 between Saskatoon and Delisle.  The Government of Canada will fund half the eligible costs to a maximum of $32 million.
Highway 7 is a key trade route for the province and connects communities such as Kindersley, Rosetown, Delisle and Saskatoon, as well as Calgary and the ports on the west coast.  Over the last 10 years, traffic volumes have increased by about 50 per cent, from 5,000 vehicles per day to about 9,100 per day.
Pre-construction work continues on the next phases of the project.  This includes design, environmental assessment and land acquisition.  As the new lanes are opened, please be cautious, alert and aware of signs directing traffic.  Construction on the eastbound lanes will be required in order to improve some of the intersections, which will require eastbound traffic to be temporarily reduced to single-lane traffic.  Please slow to 60 km/h in the work zone.