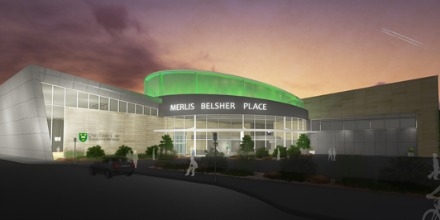 After 86 years, the University of Saskatchewan is finally getting a new rink.
The announcement of a twin pad ice facility was announced Thursday in Saskatoon.
The main ice surface will become the full-time home of The University of Saskatchewan Huskie Hockey.
Univeristy of Saskatchewan alumnus Merlis Belsher has donated $12.25-million dollars towards the goal.
Belsher says one major reason for his donation is he believes sports is a vital part of education.
"We all have fond memories of when we were in elementary school participating in sports and just having fun. Helpful for the body and good for the mind," said Belsher at the announcement.
The new facility, which will be named Merlis Belsher place in honour of the donation, will replace the Rutherford Rink which was constructed in 1929.
The total cost of the project is estimated at $41-million and the Home Ice Campaign needs to raise seven-million dollars from the public to reach their goal.
Dave King is chairman of the Home Ice Campaign which is aiming to raise seven million dollars to make the project a reality and he is urging the public to donate to get the project done.
(CJWW)