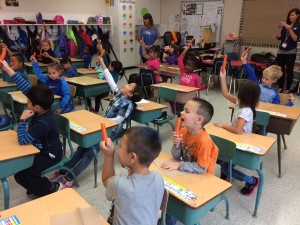 Chomping sounds could be heard throughout St. Catherine School on Friday morning when students bit down on carrots as part of the Big Crunch event.The Big Crunch is held in coordination with World Food Day, which celebrates locally grown and healthy food choices.
"We're trying to teach our kids about how to pack nutritious lunches, what is grown around us in terms of our farmers and how they support us," said Stacey Gherasim, Principal of St. Catherine School.
Gherasim says the students have had the chance to grow their own food in the school's garden since May.
"They're so excited to be outside and get their hands in the dirt. And to know that this is all because of them, they've done this themselves."
More than five thousand Regina students took part in the event this year.