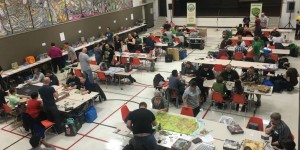 For the fourth year in the row, Saskatchewan gamers have gathered together to play games for 24 hours to raise money for Souls Harbour Rescue Mission in the 'Play With Your Food' fundraiser.
In the past four years, Sask Games has raised more than $100,000, making it the non-profit's second-largest fundraiser.
Patty Humphreys with Souls Harbour Rescue mission says this kind of funding is crucial for their organization.
"(The money raised) buys meals for our guests at the soup kitchen, provides nights of shelter, helps in our women's addiction programs — it allows them to actually go through the program because it is a one-year program — and we are not government subsidized for that," said Humphreys.
As for Sask Games, they're just happy to be involved.
Murray Bennett with Sask Games says hearing the stories of how this money raised has changed peoples' lives is the best part.
"It makes all the difference for us to hear those stories, it focuses you on why you're here," said Bennett.
This year, through soliciting donations and raffle tickets, the groups hope to raise $30,000.