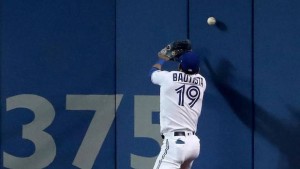 Mike Napoli homered and drove in two runs and Cleveland survived a bizarre, bloody pitching cameo by Indians starter Trevor Bauer to defeated Toronto 4-2 Monday night, burying the Blue Jays in an 0-3 hole in the American League Championship Series.
It was more of the same for the Jays, their bats rendered near useless by Cleveland pitching. Toronto has scored just three runs in three games against the Indians, who have done just enough offensively to win.
"Tito (Indians manager Terry Francona) did a masterful job running that bullpen today," said Blue Jays manager John Gibbons. "They shut us down. I'm not going to get into who's did what, this or that. But they did a great job going through a number of guys and did a good job shutting us down. I had a good feeling at the end, it didn't happen, but we'll show up (Tuesday). It's definitely a daunting task, but it's been done before."
Star reliever Andrew Miller, who had struck out 10 of the 12 Jays he faced in the first two games, came on with four outs remaining. He got a strikeout to end the eighth but gave up a single to pinch-hitter Dioner Navarro to open the ninth.
Miller struck out Kevin Pillar and Melvin Upton Jr. and Darwin Barney grounded out to extinguish the rally.
Napoli, who came in the game mired in an 0-for-25 drought against right-handers, homered and doubled. Jason Kipnis also had a solo homer for the Indians.
Michael Saunders homered for Toronto, which is now in do-or-die mode for the rest of the best-of-seven series. Both teams had seven hits.
(Canadian Press)