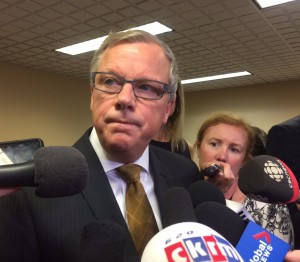 Premier Brad Wall announced Saskatchewan's climate change plan on Tuesday afternoon.
The premier released a White Paper, which contains 13 recommendations on how to fight climate change.
One of those recommendations focused on Canada exporting green technology used at Saskatchewan's carbon capture facility in Estevan, SK.
"31 countries have come to look at that Boundary Dam 3 project, so I'm not saying that Saskatchewan has the answers for the world, but the world is coming to have a look at what we're doing," said Wall.
Wall argues that even with Canada meeting its carbon reducing targets, it will have no impact on reducing the world's overall emissions because of the thousands of coal plants world-wide.
"If Canada wants to be a leader and affect the climate change around the planet, we've got to look at the technological side of things."
Wall says he will continue to fight for the province, and will take the matter to the Supreme Courts if he has to.
Interim Leader for the NDP, Trent Wotherspoon announced on Tuesday that his party is opposed to a nation-wide carbon tax being imposed on the province. Wotherspoon went on to say that the government has lost ground on the carbon-tax talks by throwing 'Twitter tantrums'.
Prime Minister Justin Trudeau announced a nation-wide carbon tax earlier this month. The plan is set to be implemented in 2018, starting at 10 dollars per tonne, increasing to 50 dollars per tonne by 2022.
Related:
Sask. Premier Brad Wall to release report on federal carbon tax
Premier Brad Wall continues to fight against nation-wide carbon tax
Premier Brad Wall considers legal options when it comes to nation-wide carbon tax