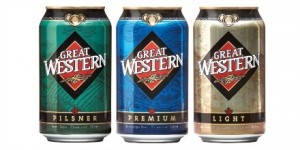 A Saskatchewan beer producer is taking Alberta to court over its new beer mark-up policy.
Saskatoon-based Great Western Brewing Company has filed a court challenge, arguing Alberta's new rules violate constitutional protections on trade freedoms between provinces.
Great Western President Michael Micovcin says there has been a noticeable impact on sales of his product in Alberta since the new mark-up was introduced in the summer.
Alberta has raised the mark-up from a sliding scale that favoured Alberta and other prairie producers to a flat rate across the board.
But small-sized Alberta brewers are eligible for rebates to offset the hike in a bid to boost the home-grown industry.
A spokesperson for Alberta Finance Minister Joe Ceci declined to comment on the lawsuit, but says Alberta has the most open liquor market in Canada, with more than 7,000 beer products on the shelves.
(Canadian Press)